The model SCALA ALUMINIUM is a decentralized umbrella swivel arm 360 ° with structure in anthracite or white painted aluminum. Base and various components are made of galvanized and painted steel.
Articulation unit and nylon hinges, which allows a greater durability of the umbrella. Interchangeable slats and painted aluminum. Choice of different sizes and types of fabrics. The oblique pole gives character and movement in all kinds of outdoor environment.
DATA SHEET:
CATEGORY
decentralized umbrella
STRUCTURE
painted aluminum
BASE AND COMPONENTS
galvanized and painted steel
VERTICAL POLE
painted aluminum 92x92
HORIZONTAL POLE
painted aluminum 92x92
SLATS (interchangeable)
painted aluminum 35x20
WINDPROOF SLAT
painted aluminum 35x20

adjustable

ARTICULATION UNIT
nylon
HINGES
nylon
OPENING / CLOSING
crank with a winch
ROPE
stainless steel
SCREW
stainless steel

SEALS

yes
SPACERSHIP SLATS
yes
FABRIC
Acrylic canvas, Tempotest PARA ', resinated, PVC
FIRE WINDOW
yes
COLOR
anthracite gray, on request white
Technical table

: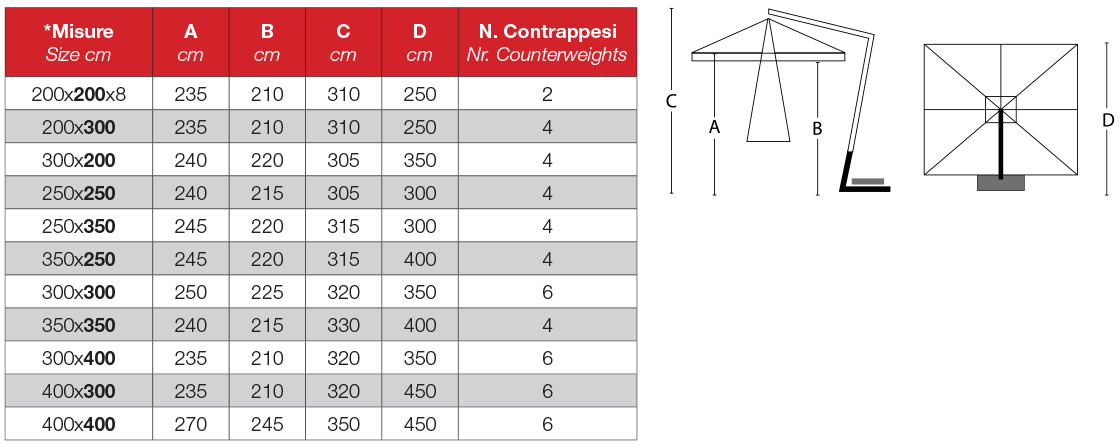 N.B. "number of counterweights" means the minimum number of bases in grit 50x50x11 from 60 kg in normal meteorological conditions.
Structure dimensions 100x100 mm.
All measurements and weights are approximate. The Costruzioni Bozzolato srl reserves the right to modify, without notice, the characteristics of its production in function of the continuous technological evolution and in the search for the continuous improvement of its products.

Available in fabric colors:
This email address is being protected from spambots. You need JavaScript enabled to view it.
to request information on this model write to: This email address is being protected from spambots. You need JavaScript enabled to view it.


download our updated assembly sheet and browse it directly on your computer.
DOWNLOAD